pouf! art + architecture – joint projects
Current:
2010-2011
dog parc gallery
(A project for "Urban Occupations Urbaines", group exhibition of site-specific art for the Cultural Corridor of Griffintown, Montreal.
Curator: Shauna Janssen. For more information, visit www.urbanoccupationsurbaines.org/ and http://griffintown.org/corridorculturel/ )

Parc Gallery, located between Basin, Olier and de Seigneur streets, is a rectangular pocket of green space that contrasts dramatically with the surrounding urbanism of Griffintown, Montreal. Griffintown has become well-known, locally, as a site of post-industrial depopulation and urban decay. While the neighbourhood is presently the focus of intense speculation, development, and anti-corporate activism, Parc Gallery is presently a place where dogs and humans come to play and relax together. Its purpose and use, unlike much of the park's context, are clearly articulated through spatial means: a simple chain-link fence, flat green turf and double-gate system. This innocuous barrier is, however, a link to the park's activist history: as the neighbourhood began its slow process of deindustrialization in the early twentieth century, citizens fought to make this park a shared green space for play and rest. It is a mark of the activists' success that Parc Gallery's borders have not changed in over sixty years.

Over the course of Autumn 2010 and Spring 2011, pouf! will work with the existing purpose and present-day users of Parc Gallery, animal and human, in order to continue our research on this important site in Griffintown. Offering portrait photographs of dogs in exchange for stories, historical facts and memories of Parc Gallery, we will compile a composite image of this public, green space. Our research will be made available in the form of an online project. Then, we will return to the park in Spring 2011 and make use of the invitation implicit in its name: (Dog) Parc Gallery. Using the dog portraits taken in the autumn, we will make a public exhibition on the perimeter of the park, affixing the portraits to the chain link border that both delineates this space for dogs and acts as a link to the park's activist history. Through the project, dog parc gallery, our goal is to intensify and make visible the importance of this place within the cultural landscape of Griffintown.

For information and updates on the progress of dog parc gallery visit: http://pouf-blog.blogspot.com/

2010
The Architecture of Childhood: images of architectural and urban space in children's books, 1929-2009
(An exhibition for The Vitrine, Department of Art History, Concordia University, 15 July – 15 September 2010)
In children's literature, architecture and urban space are rarely the agents or protagonists of the story. Yet the depiction of architecture and cities plays an important role in establishing the setting and mood of the main action, as well as describing other worlds, where magical encounter happen or where imaginative journeys can take place. This exhibition explores a selection of children's literature from 1929-2009, presenting books meant to appeal to preschoolers through to young teenagers. We made a selection of books based on three, overlapping themes: the city as pedagogical tool; the built environment as banal reality made fantastical, and architecture as magical proscenium where human and animal meet.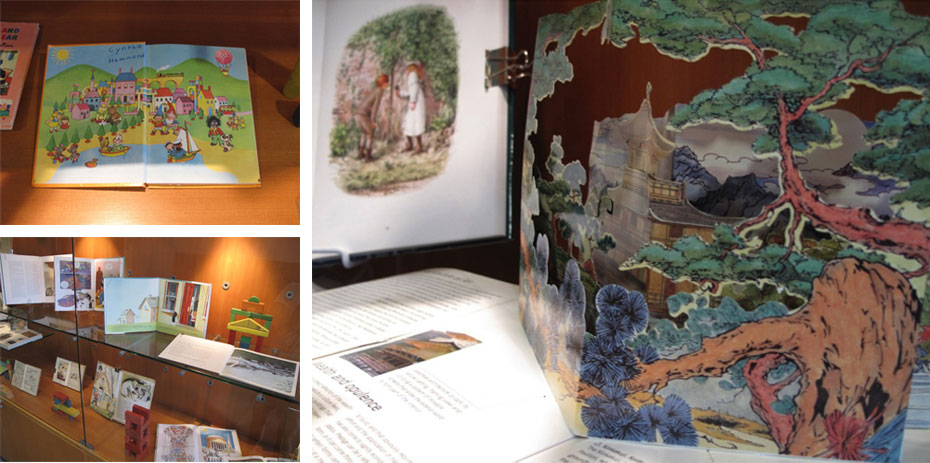 | | |
| --- | --- |
| 2009 | pom-pom (conceptual project) |
| | In 2009, pouf! made a series of pink pom-poms out of various types of yarn and wool. We thought of our pom-poms as soft weapons in a conceptual war against the machismo, rigidity and solemnity of iconic architecture. pouf! imagined elaborate schemes in which the pom-poms would infiltrate institutions which uphold conservative ideas about architectural genius, corrupt the usually-pristine space of the architectural model in high-profile competitions, or serve as mischievous gifts to architects and architectural tastemakers, a hint of all that the venerable architectural tradition eschews: craft, domesticity, femininity, impermanence and silliness. |
| | |
| --- | --- |
| 2006 | Interior design for Ludique, Montreal |
| | Working with our clients, a small firm of two personal stylists, pouf! designed an interior spatial layout for a large, open-plan loft space in Mile End, Montreal. Ludique wished to avoid the construction of permanent walls, but required two consulting spaces that would each incorporate a changing area and a display area; both consulting spaces needed to be naturally lit. The loft's only natural light source was from a set of windows on one wall – the west facade. Our design challenge was to create flexible, private chambers within the loft that would still allow natural light to filter through to the depth of the loft. pouf! sought also to make reference to the history of fashion and textile production in our design, with particular attention to women's bodies and clothing. After reviewing several proposals, Ludique settled upon our system of a dozen red and white cloth panels, hung from the ceiling and weighted with rods at top and bottom. These panels were designed to hang according to a carefully measured layout, such that anyone in the changing spaces would be completely invisible from the exterior. This system still allowed natural light to diffuse throughout the loft. If Ludique wished to make use of the entirety of their loft for larger events, the panels could be rolled upwards and tied, or cinched at their "waists", opening the space again. |