Cynthia Imogen Hammond – individual work
1999
Fifty portraits for Mount Royal. Published in La petite enveloppe urbaine, no. 4 (Montréal, Sept. 1999), ed. Hughes Charbonneau.
In the summer of 1999, I created fifty "portraits" of Mount Royal, the park that is also a mountain in the centre of Montreal. The portraits consisted
of small-scale acrylic paintings on unstretched canvas. These were then strung around the trunks of trees in a copse found approximately half-way
up the main pathway of the park. I documented the portraits, and then left them for a week, free for anyone to take. Those that remained were
enclosed in small envelopes with a brief description of the project, and disseminated through La petite enveloppe urbaine, a limited-edition art
"journal". The installation, documentation and then dissemination of the project were opportunities to create discussion and exchange with other
users and lovers of the park, about its meaning and significance as a shared, yet personal space.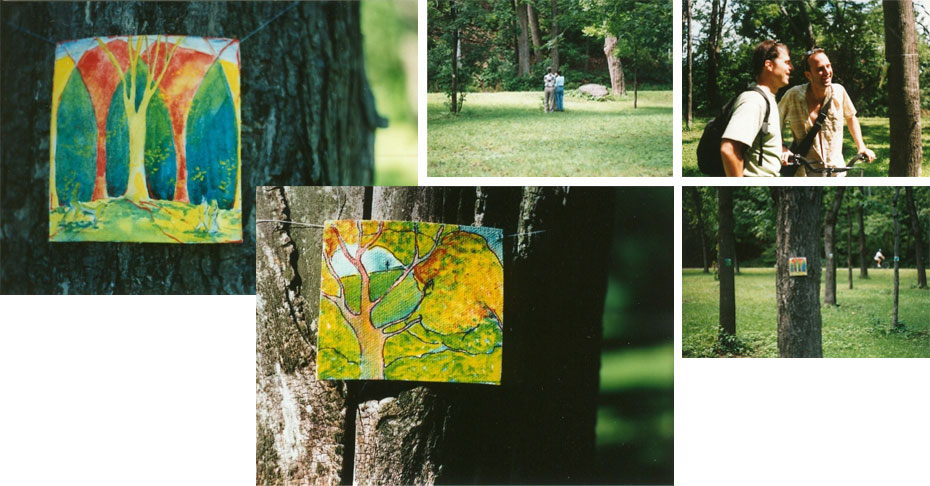 2009
The Suffragettes' Orchard
In 2009 I discovered that suffragettes had planted a commemorative arboretum on the edges of the historic city of Bath, England. This arboretum
was intended to be a place of refuge in what had become an increasingly violent struggle for women's rights, but it was also meant to be a place
where future generations could come to reflect upon what the suffragettes had accomplished. The arboretum, planted a century ago over two
acres, brought women from around the world to plant a tree in their own name. The trees were destroyed in the late 60s to make way for a housing
estate. In October 2009 I offered residents of this estate a small tree in exchange for their promise to plant and care for the tree in memory of the
suffragettes' wood. These exchanges and plantings were opportunities for me to learn more about the wood and its history. My research has led the
City of Bath to agree to planting several trees in Bath's public parks, to commemorate this aspect of women's history and heritage in the city. See
http://www.cynthiahammond.com/art_sections/suffragettes.html for more information.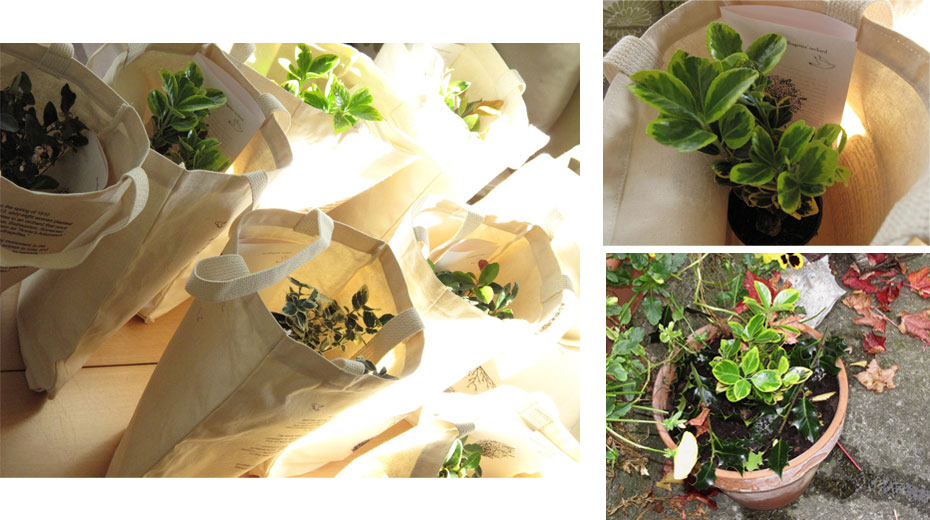 Thomas D. Strickland – individual work
2002
Thomas D. Strickland and James Andalis, curators: Interventions: Re-evaluating the Plus 15 (exhibition for the Artcity Festival, 19-29 September)
Calgary. Shown below: Andrew King Studio, Scrim, 2002.
Calgary's Plus 15 network is the world's most extensive pedestrian skywalk system, connecting 59 bridges along 16 kilometres of downtown
buildings. Since earning a Vincent Massey Award for Merit in Urban Planning in 1970, the Plus 15 system has been accused of destroying civic
vitality by separating the pedestrian from the street. As one of the curators of Artcity 2002, I wrote a call for proposals asking exhibitors to reflect
upon the pedestrian's place in this civic setting, taking into consideration how the built structure of the Plus 15 separates and defines Calgary's
urban space. One exhibitor, Andrew King Studio, explored the spatial experience of the Plus 15, inviting both pedestrians above and drivers below
to recognize their separation while at the same time playing with perceptions of this boundary. Through the artist's addition of a scrim, headlights
of oncoming cars were visible through pedestrians' shadows as they passed along the length of a bridge.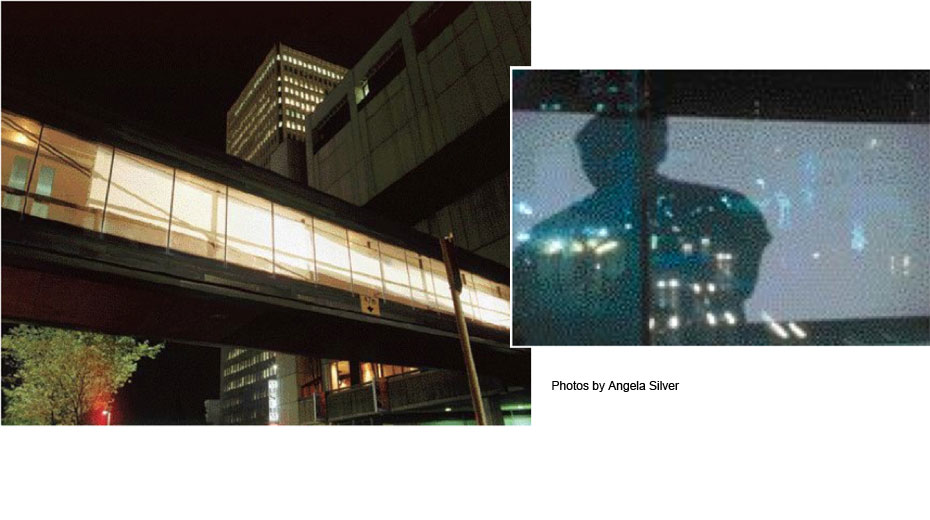 2003
Thomas Strickland and Dave Fortin, curators: Full Extension (exhibition for the Artcity Festival, 5-21 September) Calgary.
Shown below: Kika Thorne, Dehomoginized, 2002.
Exhibited at the Free Gallery, Toronto, Fall 2004 as Subway Transfer.

Reaching into the diverse spaces of Canadian cities, rapid transit systems constitute subtle civic edifices. For Full Extension, exhibitors were invited
to consider the notion of "public" as enacted through Calgary's Light Rail Transit (LRT). Using City of Calgary Statistics, backed up by community
workers at the Language Instruction for Newcomers to Calgary and the Calgary Catholic Immigration Society, artist Kika Thorne proposed to install
transit directions in the languages of recent refugees, non-status and migrant workers on LRT system platforms. She and I researched the languages in order to produce the vinyl lettering needed, and an accompanying booklet (seen below).

Kika's project was rejected by the City of Calgary, but she found a subsequent opportunity in Toronto to realize the project. There, exhibition
viewers encountered Chinese, Russian, Tagalog, Punjab, Farsi and Urdu upon subway walls. By using multiple languages, the exhibit drew
attention to and temporarily corrected the failure of cities to officially recognize Canada's diverse cultural dynamics. At the same time as the
project revealed how ordinary civic infrastructure can reinforce the non-status of new citizens, it also demonstrated how such architecture has the
potential to be a site of cultural openness.